Zafehouse Diaries is back!
The cult hit from 2012 is now bigger, better and more terrifying than ever. Take control of a group of people - each with their own skills, motivations and prejudices - and try to survive the zombie apocalypse.
Every story is unique: Each game is procedurally generated - will your survivors work well together and complete their objectives?
Ordinary people, extraordinary situations: Keep your survivors happy and motivated, or they'll turn on each other
All new engine: Zafehouse Diaries has been upgraded in every way. Full widescreen support, high resolution, a 3D environment and multiplatform support
More of everything: Loads of new items, orders, events, occupations, dilemmas and scenarios
Increased control: Equip your survivors and determine how they defend and breach locations
Play it your way
Zafehouse Diaries 2 has a wide range of customisation options - from custom survivors to gameplay options.
Custom game options: Adjust a wide range of gameplay options, from item distribution and zombie strength, to relationships and dilemmas
Survivors: Create your own survivors and configure their age, gender, sexuality and more. Choose from dozens of built-in portraits or import your own
Group creator: Customise special groups of survivors - including their prejudices - to control exactly who you want in your game
Occupations: Add new occupations, configure their bonuses, and assign them to your custom survivors
Item editor: Design new items, import photos and even add your own sound effects
FAQ for Zafehouse players
How does Zafehouse Diaries 2 differ from the original?
At its core, Zafehouse Diaries 2 is the same strategic drama simulator as the original, but it expands on it in every way: added content, upgraded engine, more surprises, more madness.
I loved the original. Will I like this?
Yes! We've taken all the great bits that our fans loved about the original, smoothed out the rough edges, and expanded on it. While we've added some extra complexity around combat and orders, we've also made the systems quick and easy to use, and included a smart set of defaults if you just want to go with the flow.
I hated the original. Will I like this?
We hope so! We've addressed many of the concerns that players had about the original, from technical problems to gameplay. It is still difficult - but the story is half the fun. It also includes customisable difficulty options and a diverse set of scenarios.
What are some of the new gameplay features?
You have more control over how your survivors breach and investigate locations. You can also equip your survivors with a weapon that they will always use.
Some orders have more granular options - if you notice zombies massing to the north, then you can focus your barricading efforts on north-facing entrances.
We've also overhauled many parts of the interface so it's easy to see what's going on. The most obvious example is the location layout, but you can also easily check your survivors' skills, injuries and special modifiers.
Are survivor relationships still important?
Absolutely. We've refined the system so you can have more ways to change relationships. In addition to the rumour system, we've added a new option: redemptions. This involves one survivor being asked to do certain tasks to 'redeem' themselves in the eyes of another, which removes a prejudice. It's also more obvious what might happen to relationships during a dilemma, so you can tactically choose an option that improves relationships.
Is combat still brutal?
Combat is still the most dangerous aspect of the game, but you have more control over breaching. For example, you can equip survivors and select how cautious they should be while breaching. Furthermore, survivors are more likely to flee if things are looking pretty grim. If you still find it hard, then you can tweak the difficulty settings.
How do dilemmas work?
Dilemmas are similar to the original, but they are more varied and have a range of consequences. It's also far more obvious what might happen to your group's relationships if you choose a particular option.
Is it still difficult to transport supplies around?
We acknowledge that moving items around was tedious, so we've reworked a few things. First, while there are more types of items in the game, there are fewer quantities to deal with. Second, your survivors can generally now carry more items, and common items (like ammunition) do not take up any space. In addition, survivors can be equipped with a weapon and protective gear - neither of which will affect the cargo capacity.
Finally, selecting an investigation or breaching mission will automatically add items to the group's cargo. For example, if Mary has a shotgun and she's heading to the hospital, she'll automatically take shotgun shells and a breaching tool, if available.
Screenshots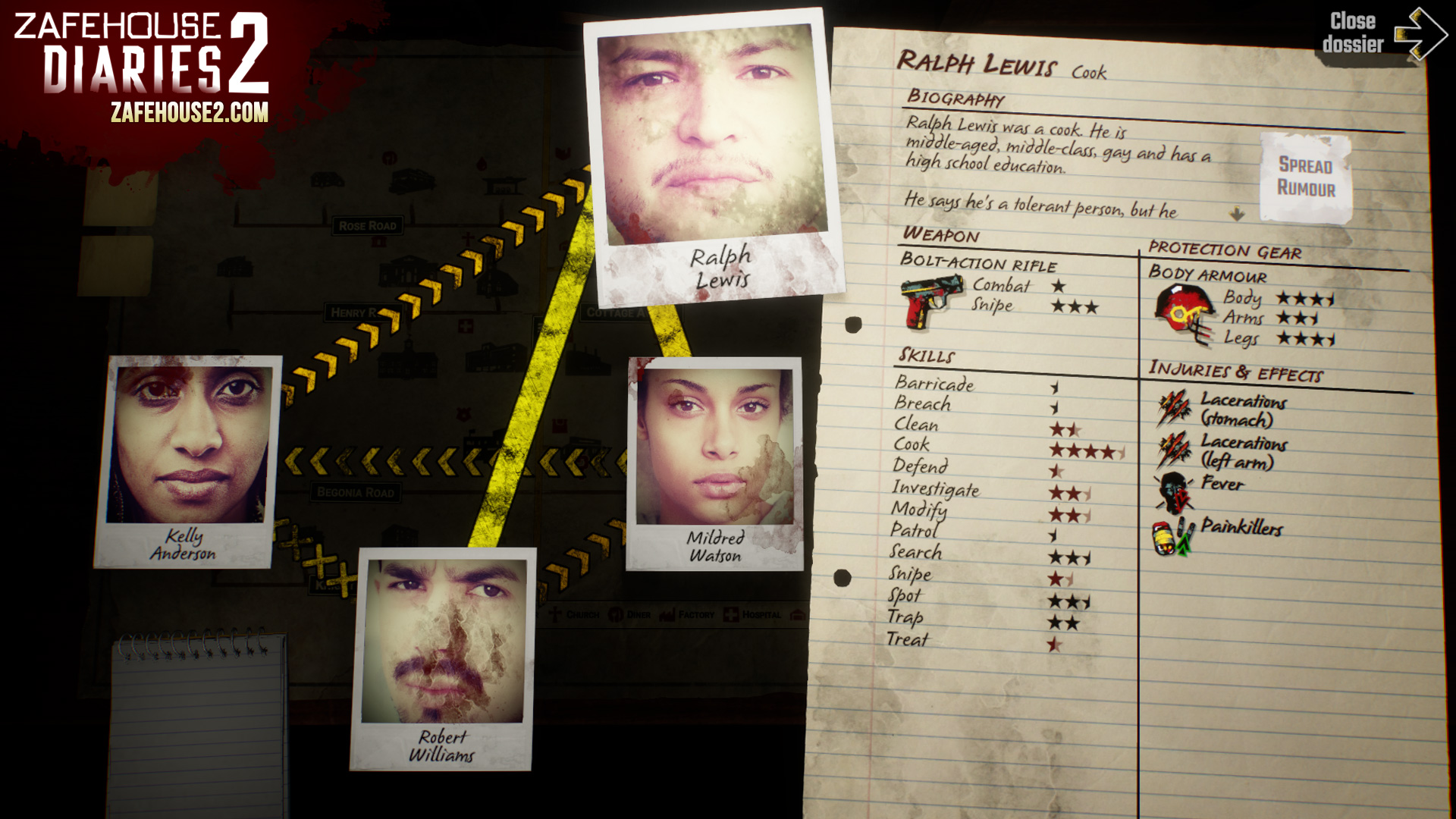 Latest update
The most recent version of Zafehouse Diaries 2 is: v1.1.0 (released August 5, 2017)
If you bought Zafehouse Diaries 2 via Steam
Do not attempt to apply the standalone patches from our site! As long as you haven't disabled automatic updates for the game, it should already be patched to the latest version. If in doubt, contact the distributor directly.
If you bought Zafehouse Diaries 2 directly from us
To update any older version of the game, please download the appropriate patch for your platform using the links below:
Download latest update (Windows)

Download latest update (Mac OS X)
Note to Mac OS X users: You will need to install Mono for OS X to run the update.
Before applying the update, make sure Zafehouse Diaries 2 is not running.
System requirements
These are the minimum system specifications required in order to run Zafehouse Diaries 2. The game may be able to run on older hardware, but we can't provide support for these configurations.
Windows
Windows XP, Vista, 7, 8, 8.1 or 10
Intel Core 2 Duo 2.2GHz or AMD Athlon 64 X2 5000
NVIDIA GeForce GTX 560 / RADEON R7 250X with 1GB
4GB system RAM
300MB hard drive space
1024 x 768 resolution or greater
The Windows version of the game also supports Direct3D 11, and will almost always perform better on hardware and platforms that support it.
Mac
Mac OS X 10.7 or later
Intel Core 2 Duo
Mid-to-high performance NVIDIA or AMD graphics card with 1GB RAM
4GB system RAM
300MB hard drive space
1024 x 768 resolution or greater
Linux
Ubuntu 12.04 or later
Intel Core 2 Duo
Mid-to-high performance NVIDIA or AMD graphics card with 1GB RAM
4GB system RAM
300MB hard drive space
1024 x 768 resolution or greater